ACADEMY
CIGSIE, Winter 2010-11
Project Description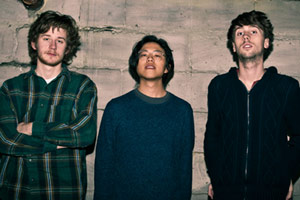 CIGSIE, 2011

About The Project

ACADEMY is a contemporary and experimental music trio comprised of David Bird, Eugene Kim, and Christian Smith. Our 2012 Winter Term project will involve preparations for realizing July Mountain, composed by Michael Pisaro; as well as a five-day performance tour featuring works by Mark Poliks, Esaias Järnegard, and Pisaro.
About David Bird, Eugene Kim, and Christian Smith

David Bird is a composer of electro-acoustic music from Laguna Beach, California. He currently studies composition and technology in music and related arts (TIMARA) at the Oberlin Conservatory of Music. His work frequently employs the use of live electronics with aims to strengthen the relationships between acoustic and electronic instruments. His music has been "Vimeo staff-picked" and featured on their homepage and publications such as The Plain Dealer, The Atlantic, and NPR. His work has been performed across the country at venues such as the Percussive Arts Society International Convention (PASIC) and the Kennedy Center in Washington D.C.
Eugene Kim is a fifth-year piano performance and composition major. He is always eager to share and disseminate new music, planning to continue an active career in offering diverse programming and education to those who are interested not only in contemporary art music, but also to those who are perpetually curious of an alternative and experimental outlook on all art – old or new. Eugene has received private lessons in piano performance/improvisation from Sanford Margolis and Robert Shannon, and lessons in composition from Josh Levine and Michael Pisaro.
Christian Smith is in his last year at the Oberlin Conservatory where he studies percussion with Professor Michael Rosen. He also has studied with David Fishlock of the Cincinnati Symphony Orchestra, Allen Otte of Percussion Group: Cincinnati, and Matthew Duvall of eighth blackbird. Christian has attended the Boston University Tanglewood Institute, Music '08 and '10, the SICPP Festival, and the Lucerne Festival Academy. He has worked with composers Per Bloland, Amy Kirsten, Hannah Lash, Josh Levine, Tom Lopez, Lewis Nielson, Mark Poliks, Steve Reich, Rand Steiger, and with numerous student composers. Christian will perform with ICE on January 21 in Oberlin.
Team Members